[ad_1]

The car uses the same powertrain as the regular GT R, giving it a 577bhp turbo V8, a transaxle paddle-shift gearbox and rear-wheel drive. It retains the standard GT R's four-wheel steering system and 10-position, track-intended, 'how-much-drift-angle-would-you-like-before-I-save-your-bacon-yet-again-sir' traction control system. But it has benefited from a very purposeful chassis and suspension makeover that has added high-end coilover suspension that's manually adjustable for spring preload, anti-roll stiffness, high-speed and low-speed damper compression and damper rebound.
It gets an integrated half-sized roll-cage also, which increases the rigidity of the chassis along with some new carbonfibre underbody bracing. And it also gets entirely rigidly mounted rear suspension, where it's only partially so in a regular GT R.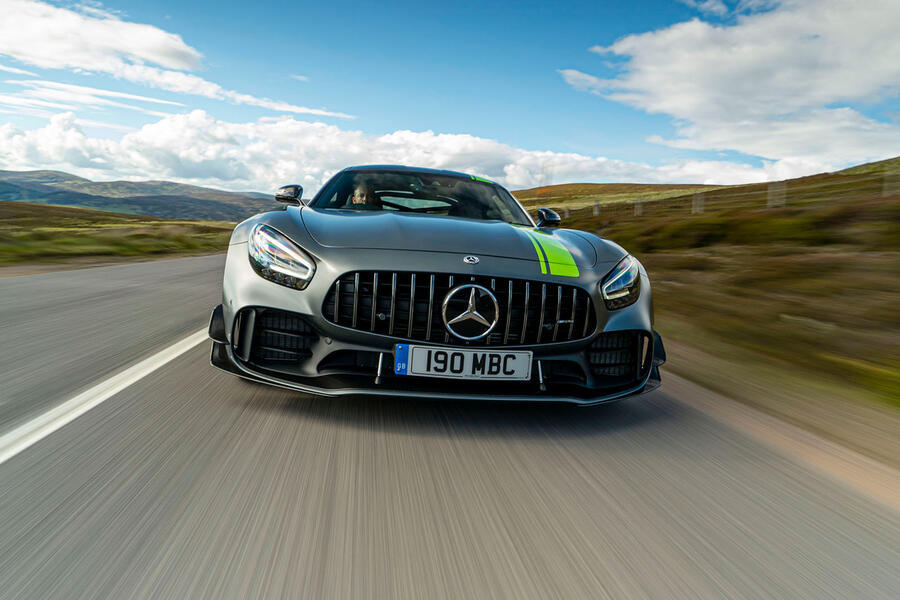 What's it like?
Sounds like a recipe for disaster on craggy UK B-roads, doesn't it? Actually, it's anything but. Regrettably, we didn't have the chance to drive the GT R Pro on track (although we did at Hockenheim earlier in the year) and didn't have the opportunity to explore every adjustable facet of that configurable suspension either. Although the rebound adjuster knobs for the latter are accessible enough, getting to the controls for compression, preload and anti-roll settings means getting the wheels off. And sadly there's no trolley jack in the glovebox.
However, in what I could at least see was a mid-range suspension setting leaving room to both stiffen and soften should you wish, the GT R Pro deals with normal roads and everyday driving encouragingly well. It feels at once more rigid and all-of-a-piece than other GTs and also more settled and composed over bumps. That new suspension has dialed out much of the restive pitch-sensitivity and aggressive firmness from the GT's close body control.
The car's ride has that noisy-yet-ever-taut, expensively engineered feel that'll be familiar to the owners of Porsche RS cars and track-intended Lotuses among others. It thumps a bit over Catseyes and sharp edges, and it bristles over high-frequency inputs and at town speeds – and in neither case would you call the upshot entirely comfortable. It's the rear axle that's the noisier of the two, mostly because the car's standard half-cage bridges the rear suspension towers and it allows every input a direct audible route into the cabin. But then roll-cages do that.
There's some suppleness to proceedings over longer-wave undulations taken at decent ground-covering speed, thankfully, and first-rate initial damper response so that, despite looking so short-on-travel given how well those lightweight forged rims fill the arches, the car's axles don't seem so most of the time. I spent a while wondering, in fact, whether the GT R Pro might even be the best-riding GT I've driven. In some ways, not least because it's not a particularly high bar, it might be.
[ad_2]