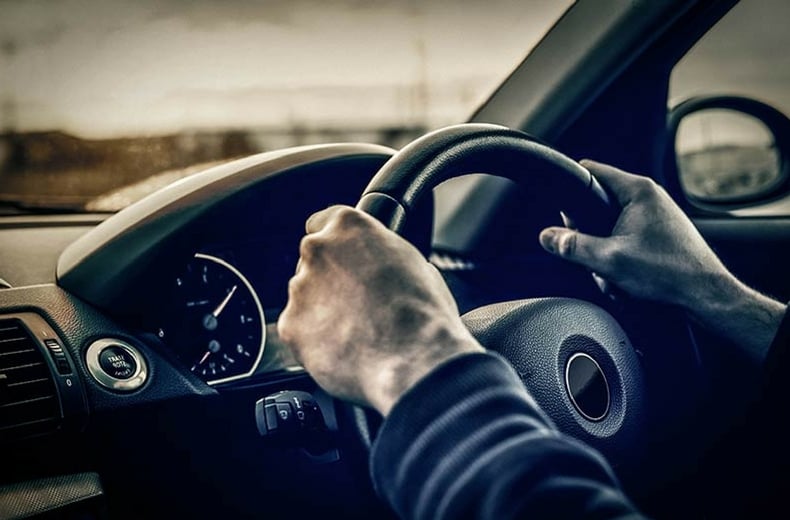 It's important to take a test drive when you're buying any car.
Before you do this, you'll need to make sure you, the garage or private owner you're buying the car from have the right insurance in place. Temporary car insurance covers you specifically for this and can be taken out for as little as an hour. It is easy to apply online and you can be on the road within 15 minutes.
These are the other important things to consider:
1. Does it start OK?
A car which is problematic to start might need a new battery or alternator.
2. Check the temperature gauge when you start it
Has the seller been warming the car up beforehand?
If so, why?
Check that the engine starts OK from cold if possible to do so.
Also try turning it off and on after it's been running for a while to make sure it starts when it's warm
3. Watch the temperature gauge
Does it get up to half way fairly quickly and stay there? it might need a new thermostat, while overheating could be a sign of more serious issues
4. Check the clutch
Is it easy to find point, or is it a long way up the pedal travel?
Try accelerating up a hill at low revs (in a high gear) to check for slipping.
Also try a quick getaway – does the car pull away cleanly, or does the clutch judder?
Clutch replacement can be costly so it might be worth trying a few examples of the same model to help you understand what's right and what isn't.
5. Check the transmission
Do all gears select easily?
They shouldn't be too notchy or sloppy, or make crunching noises every time you change gear. and the gear stick should self-centre when you take it out of gear.
If the vehicle is an automatic, ensure gear changes are smooth and in line with road speed and engine load etc.
6. Check the steering 
Does it operate smoothly, without any odd noises? Is the power steering doing its job, or does the wheel feel heavy?
If you remove your hands from the wheel, does the car pull to one side or does it track straight? (a good level and flat road is best to test this).
7. Is the suspension working as it should?
Obviously some cars will have firmer suspension than others, but drive over bumpy roads and listen out for thunks and clunks, and feel for any unusual jolts being transferred into the cabin.
8. Listen to the engine
It's a common trick of used car salesmen to turn on the radio during a test drive – turn it off and listen to the engine.
Is it running smoothly, or does it sound rough and noisy? If it's the latter, it might have been neglected.
9. Does it perform as you'd expect?
Accelerate through the gears… does it keep up with traffic OK?
Is the performance as you'd expect for the car?
If it's overly sluggish, there may be issues.
10. Test the brakes
If you get the chance without a car behind you, try going hard on the brakes.
Does it stop cleanly, in a straight line without pulling to one side?
Are there any unusual noises?
Check the handbrake works effectively also, many vehicles are now fitted with electronic handbrakes – make sure it functions correctly.
11. Do you like it?
As well as being an opportunity to look for faults on a secondhand car, the test drive is a good opportunity to make sure you're buying the right car for you.
Is the driving position comfortable?
Would you be happy driving it for the journeys you do?
Even used, a car is a big investment, so make sure you're entirely certain with your choice.
Click on the below image to download the checklist and take it to your viewing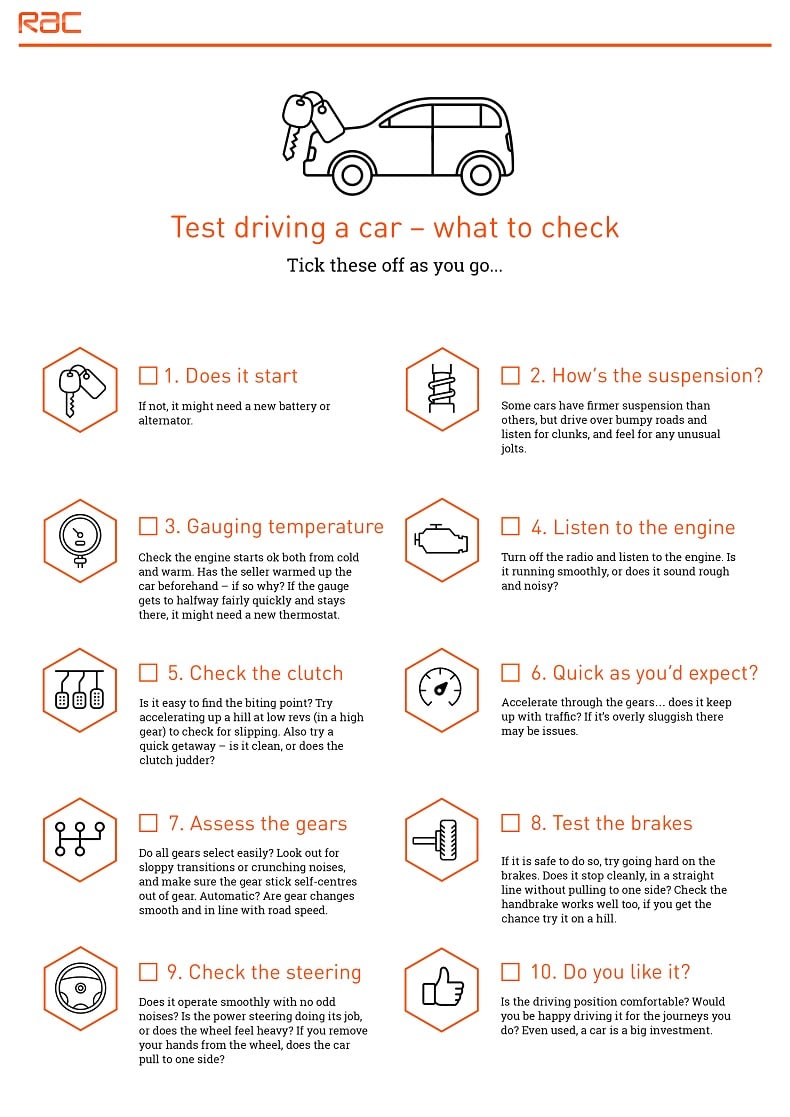 ---

You've found a secondhand car, checked the paperwork, done an RAC history check, been on a test drive and now you're ready to go ahead and do a deal.
This is potentially the most challenging part of buying a car – how should you go about it?
No matter where or who you're buying a car from, our best advice is to be polite and fair.
It's human nature to want some money off and, while some sellers will be open to negotiating, others will be less keen.
Take a positive approach and view it as a challenge – sellers rarely respond well to buyers making insulting offers and taking an over-the-top approach to haggling.
Walk around the car with the seller and highlight any issues you've found.
They're likely to already know about these – and may have already taken them into account when pricing the car – but it'll help them see it from your point of view.
Before going to see the car, you should have looked into how it compares with others on the market (bearing in mind trade sales should be more expensive than private), so you'll know how much it's worth.
With this in mind, set your budget in advance and stick to it.
If you feel the car is overpriced for the condition it's in, make an offer and be prepared to walk away if the seller isn't willing to move.
You may find that the seller makes a counter offer – if not straight way, perhaps when you've driven home and showed you're not willing to pay more money.
If you're buying from a dealer, there may be scope to get some extras thrown in free rather than simply money off.
Ask for a full tank of fuel, for example, or a service or MOT if the car needs it.
Avoid being pressurised into buying a used car.
If you're not 100% sure on the car, walk away – there will always be more to see.
Don't buy a car from a private seller in a public place.
View it at their home so you can see the address matches the V5 keeper's document.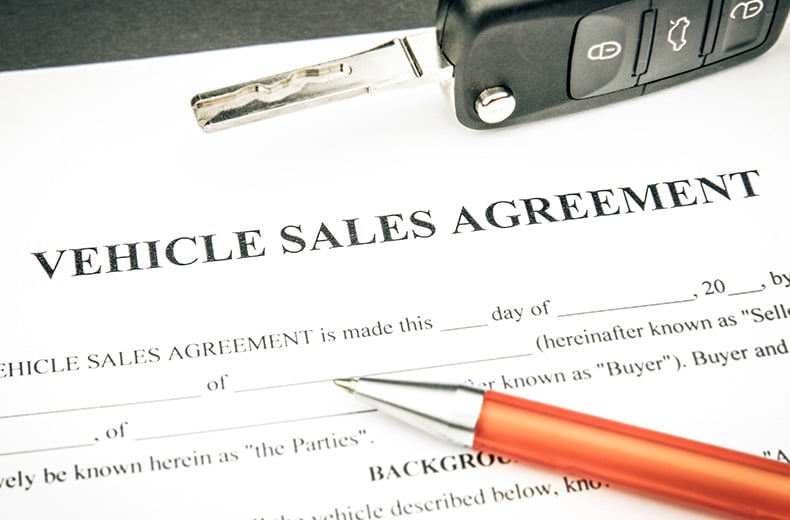 Once you've found the car and agreed a deal, the next step is paying for it.
The best way of doing that depends a lot on the value of the car – while producing a wad of £20 notes might be the best way of paying for a £500 car, doing so for a £20,000 motor could get you into a lot of trouble.
You could pay using a cheque, but the seller will want funds to clear before you drive away.
Alternatively, transfer the money using online or telephone banking – this should be quicker than a cheque, but won't be instant.
A banker's draft is quicker, but you'll have to pay a fee for this.
If you're buying a car from a dealer and it's relatively cheap, you might be able to put the car on a credit card, although you might have to pay a small fee for this.
Many dealers offer finance, but the rates on secondhand cars often aren't as competitive as taking out a personal loan.
You can get a quick personalised loan rate in just three minutes from the RAC for up to £25,000 without affecting your credit score.
Before transferring funds, please ensure that you are completely satisfied with what you are buying.
When transferring funds, ensure that you use a trackable method of payment such as a credit or debit card as paying by cash is far harder to trace.
Please note: It is important to be wary of online sellers and to ensure you research the seller thoroughly.
If you've followed all these steps, you should be in a good position when handing over the money.
Ask for a receipt for the money – including any agreement such as work to be carried out before collection as well as the date and the car's current mileage.
Buying a used car can be stressful, but if you think you've found the right car for you make sure you ask the seller these 10 questions to give yourself some peace of mind:
1. Can I see the car?
This might sound like a redundant question, but if you're buying privately online it's imperative you see the car and inspect it with your own eyes before parting with any money. Never buy a car from a private seller without seeing it first.
2. Can the car be legally sold?
This is a biggie. If a car can't be legally sold for any reason – if it's been written off or subject to outstanding finance – then, put simply, don't buy it. If you do, you'll be left driving illegally and could face a fine, a ban, or even repossession. 
3. Why are you selling the car?
You can dress it up as simply making conversation, but put the seller on the spot by asking specific questions about why they want to part with the car. This could catch them out and throw up something that wasn't included in the description.
4. Can I see the paperwork?
A used car should come with a set of documents – including V5C certificate and full service history – so ask to see them. You can check a car's history against what you find on the RAC's vehicle history tool.
5. How many previous owners has it had?
Generally speaking, the more owners a car has had, the less it's worth. So, whether the car you're looking at has had seven owners or just the one, it should be reflected in the price.
6. Has the car been in an accident?
If the car's been in an accident, there could be internal damage not included in the description. Worse still, if the car's been written off then it might not even be legal to sell it on, meaning you could be left with an illegal motor if you buy it. Write off cats***
7. Are you the registered keeper?
If the seller isn't the car's registered keeper it's unlikely they'll be able to answer any of your questions about the vehicle. It might be that they're simply selling it for a family member, but exercise some caution before proceeding.
8. Is the car 'as described'?
Sellers are obliged to sell a car 'as described', meaning the actual vehicle matches what's included in the description. Take the listing along with you and use it to check against the seller's answers to make sure.
9. Can I drive it home?
If the seller says you can drive it home, that means it's roadworthy, has an MOT and has no known problems that'll cause it to breakdown on the way home. If you find out that's not the case, the car won't have been sold 'as described.'
10. Can I take it on a test drive?
The best way to see how a car drives is by getting behind the wheel yourself so you can check its steering, braking, suspension, and more. If a seller doesn't want you to test drive the car it could be a sign that all is not well with the car.  
Under the Consumer Rights Act, all cars bought from dealers must be of satisfactory quality, fit for purpose and as described.
It is also true that, whether bought through a dealer, or privately, the vehicle you buy must be roadworthy which means it must be fit and safe to drive.
Section 75 of the Road Traffic Act 1988 states that it is illegal for anyone to sell a vehicle that is not roadworthy.  
If you can demonstrate that there is a fault with the vehicle, you will be entitled to a number of remedies depending on when you bring the fault to the trader's attention:
Within the first 30 days from taking delivery of the vehicle: Should you reject the vehicle within the first 30 days because of a fault which you can demonstrate you will be entitled to a full refund when you return the vehicle. If you prefer a repair or a replacement, the trader must do this for you within a reasonable time and without causing your significant inconvenience
From the 31st day until the first six months: Should you have experience a fault with the vehicle, you are entitled to a repair or a replacement from the trader. Should the repair or replacement not address the problem you are complaining of, you will be entitled to reject the vehicle and then claim a refund (which can be reduced as a result of your fair use) or, if you prefer to, keep the vehicle and receive a fair price reduction. It is worth noting that as long as you can demonstrate that a fault exists, it is presumed that the fault was there when you took delivery of the vehicle. It would be for the trader to prove that you had caused the fault since you took delivery of the vehicle.
From six months and up to six years: Should you experience a fault with the vehicle after six months and you can prove that the fault was present at the time of delivery, you will be entitled to a repair or replacement. Should the repair or replacement not address the problem you are complaining of, you will be entitled to a choice of rejecting the vehicle and claim a refund (which can be reduced as a result of your fair use) or keep the vehicle and receive a fair price reduction. However, after the six-month period, the burden of proof is reversed and a consumer will have to show that the goods were defective at the time of delivery.
After six years: You are not entitled to any legal remedy under the laws of England and Wales (5 years in Scotland)
If you pay for all or part of the vehicle via credit card, you may be able to seek redress from your credit card provider.
They can be jointly responsible for problems with your vehicle under The Consumer Credit Act 1974.
If your vehicle is subject to a finance or lease agreement, your options may vary considerably.
Escalating an issue to court? What's the procedure
If you cannot come to an amicable resolution with the dealership, there is a process in place which can still provide a remedy.
If giving them an opportunity to remedy any breaches of contract do not come to fruition, the next stage is to send a 'letter before action'.
A helpful website for the court process can be found here.
An MOT is not proof of roadworthiness
Please note that an MOT certificate from a test several months ago is no guarantee that the vehicle is roadworthy on the day you are looking to buy it.
The MOT certificate can also highlight any issues that the owner or registered keeper was advised to monitor with a view to putting right.
If you think you have been sold an unroadworthy vehicle, report it to your local Trading Standards and the Driver and Vehicle Standards Agency (DVSA). 
A V5C doc is not proof of ownership 
It is worth noting that a V5C is not proof of ownership of a vehicle, but does state the registered keeper at the time.
It's a good idea to request to see proof of ownership from the seller i.e. a receipt or invoice. 
Buyer's rights summary
You'll have less protection if you've bought a car privately.
The key is to ask as many questions as possible – while sellers don't have to volunteer information, they're on rocky ground legally if they tell lies about the car's condition or history.
It must be described accurately, so if the car's advertised as having air conditioning and you find out on the way home that it doesn't, you could ask for a full refund.
Before you drive the car away, you legally have to take out insurance and pay for VED (vehicle excise duty – road tax).
The easiest way of obtaining insurance before driving home in a new car is to get a quote beforehand, then all you need to do is go online or phone up to accept it when you're ready to take out the policy.
You can tax a car using the 'new keeper's slip' of the V5 on the DVLA's website. Alternatively, phone the DVLA's 24-hour automated service on 0300 123 4321 or visit a nearby Post Office.