[ad_1]

Missed all the fuss about Skyactiv-X? Well, here's a brief explanation. The engine uses something other manufacturers have been unable to perfect for decades: compression ignition (like that used in the diesel combustion process) of petrol. Under light loads, a lean fuel and air mixture is pushed into the cylinder under a very high 16.3:1 compression ratio. It won't ignite like this alone, however. So as the piston compresses the lean mix, a small amount of a richer fuel mixture is squirted towards the spark plug.
As this ignites it increases pressure further, in turn igniting the leaner mixture filling the cylinders, burning it more cleanly and efficiently. Give it the beans, however, and the system switches to a conventional petrol combustion process.
To achieve this the Mazda makes use of a supercharger, but that isn't there for the power gains – simply to supply enough air to keep the lean burn process going. If that fearsome complexity isn't enough, the 3 also gets a 24V mild-hybrid system that harvests energy when slowing down and uses it to assist acceleration.
Lost interest? All you really need to know is that it's a naturally aspirated petrol engine that makes 178bhp, emits from just 100g/km of CO2 and promises 50mpg in the real world. Witchcraft made real by Mazda's boffins.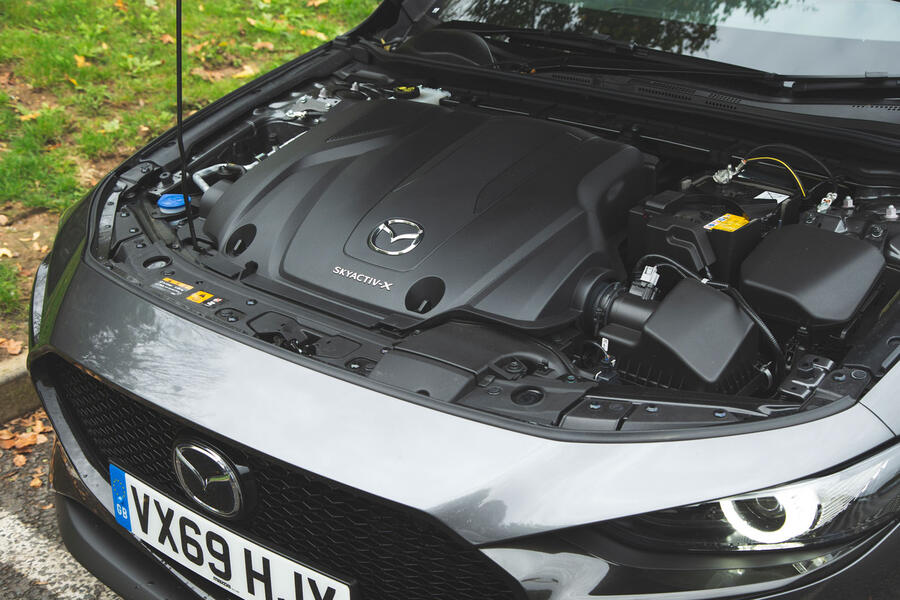 However, there's more to Mazda's Ford Focus rival than clever stuff under the bonnet. For starters, the svelte looks have already won favour with the vast majority in the Autocar office. The old model was hardly ugly, but at a stroke it's made to look lumpen and clumsy by the curvy, clean and minimalist lines of the new model. The proportions, too, mark it out from rivals: that strikingly low bonnet, the low roof and steep rake of the rear window, and the chunky C-pillar give it a distinctive identity, as do the neat front and rear light clusters.
It all means that, in my view, this is the prettiest car in its class, and despite my disappointment that we weren't getting a Soul Red one, I'm happy with the combination of Machine Grey, black wheels and, especially, the burgundy leather. Ah yes, that interior: another reason to go for the Mazda over the more obvious class choices.
The first thing that strikes you on entering is the perception of quality brought about by everything you touch and interact with. Door cards and armrests are plushly padded, switchgear feels expensively hewn and damped and the material mix is far more Mercedes than Mazda. It's really impressed everyone who's been on board so far.
And unlike our now departed long-term A-Class, which I personally felt was more about superficial chintz than actual substance inside, the ergonomic execution seems near-perfect. Niggles will no doubt emerge as the months tick by, but a thousand miles in and I'm struggling to find fault.
[ad_2]