[ad_1]

By running the Focus, we wanted to find out if it retained that winning mix of strong handling and immense practicality, but also if Ford had given it the extra polish to compete with rivals that feature a 'posher' badge.
On that first point, the Focus remains an absolute hit. Our ST-Line X model – with 180bhp 1.5-litre three-pot Ecoboost engine, six-speed manual 'box, 18in wheels and active dampers – remains a compelling drive. It's comfortable on the motorway and dual carriageways but really comes into its own on a flowing country lane. Although it's no hardened hot hatch (you'll need a full-on Focus ST for that), it turns in and corners with aplomb and offers plentiful and rewarding feedback without ever feeling overly stiff or uncomfortable. Then, when you get to the supermarket, you have a practical, spacious car that will house considerable amounts of shopping.
As for practicality, our art editor, Sarah Ozgül, put the Focus through its paces in the process of moving house, using it to transport new and old furniture, DIY projects and a surprising number of big wooden doors, and – even though the odd bit of creativity was required when it came to loading – she found the it up to every challenge. For anyone in the market for a car of this size, it's hard to think of a realistic load-hauling scenario in which the Focus wouldn't be up to the job.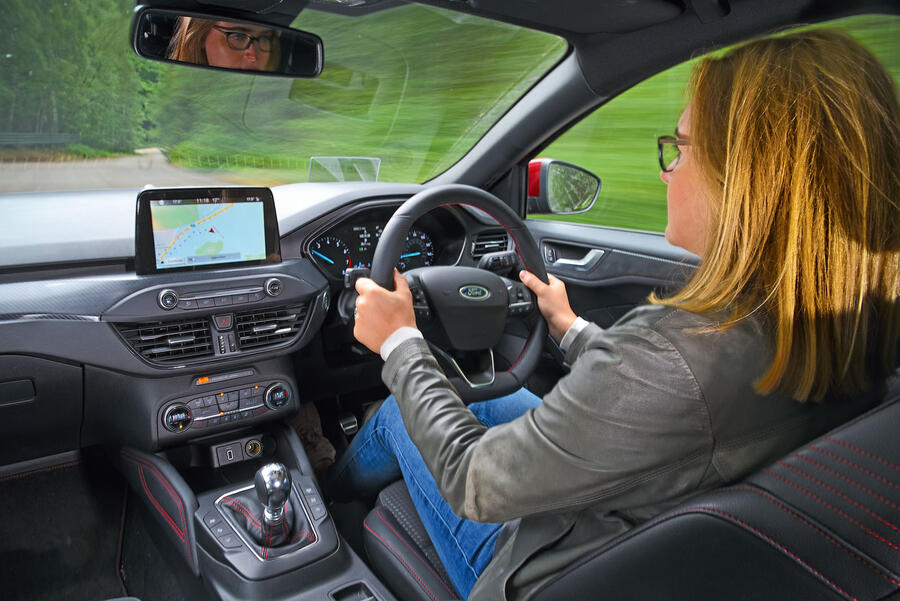 The Ecoboost engine won't exactly set your heart aflutter for its aural qualities, but it's ideally suited to its purpose here: it's quiet and efficient, but with plentiful power almost always on hand when needed. It's also smooth, which makes it ideal for covering long motorway mileage. Our car's engine occasionally became a little rattly, though, particularly when the auto stop-start kicked in.
That said, fuel economy was a bit of a bugbear: it has an official economy of 51.4mpg, but despite our best efforts – including judicious use of the Eco drive mode – we found the average resolutely stuck at just under 40mpg. That's not a total disgrace for a petrol-engined car (and the diesel Focus fares a lot better) but it's still a little disappointing, especially against similarly priced hybrids.
On the whole, any niggles with the performance of our Focus were minor and largely offset by the pleasure we took in driving it. On to the second goal of our test, then: does this new Focus have the quality feel to compete against rivals long regarded as a bit, well, posher?
That's a pertinent question – and not just because, with options, our specced-up ST-Line X model's price added up to a hefty £33,145. Recently, Ford dropped the entry-level Style trim, so the cheapest Focus now on sale is the £20,605 Zetec. That's Ford responding to sales trends: thanks to those PCP deals and the like, about half of Focus sales are of the higher-trim levels (X, Vignale, ST and so on).
[ad_2]