[ad_1]

Final mileage: 8087
Back to the top
Life with a DS 7 Crossback: Month 4
Are the premium ambitions of DS apparent at its dealers and the service they offer? – 6th November 2019
Establishing a premium car brand from scratch isn't exactly a walk in the park, but spinning one off from your existing mass-market business can be just as tough.
That's the problem DS faced when it first split from the mothership. It's all very well spending big to create a range of distinct models shod of their Citroën identity, but if those same cars have to be sold out of a Citroën dealership, it rather undermines the new brand's credibility.
So when the service warning light in my DS 7 came on prematurely, it gave me the perfect opportunity to find out whether the aftersales experience delivered the goods.
DS is still firmly in the middle of its establishment stage. It has just 36 UK dealers, split between 32 DS Salons, which are effectively spaces tacked on to the side of Citroën and/or Peugeot dealers, and four DS Stores, which are more independent facilities in their own right. The plan is to gradually convert many of the existing Salons into fully fledged Stores as the brand's product line-up grows.
Although I have a more local DS Salon in Swindon, Wiltshire, I elected to take my car to the nearest DS Store, in Crawley, West Sussex, where I was greeted by their polite service manager, Tim. The site is a fraction of the size of a typical Audi or Mercedes dealer (with the DS 3 now thankfully retired, the firm sells only two models, remember) but it's certainly more upmarket in appearance than the classic all-white charm-free Citroën dealer next door.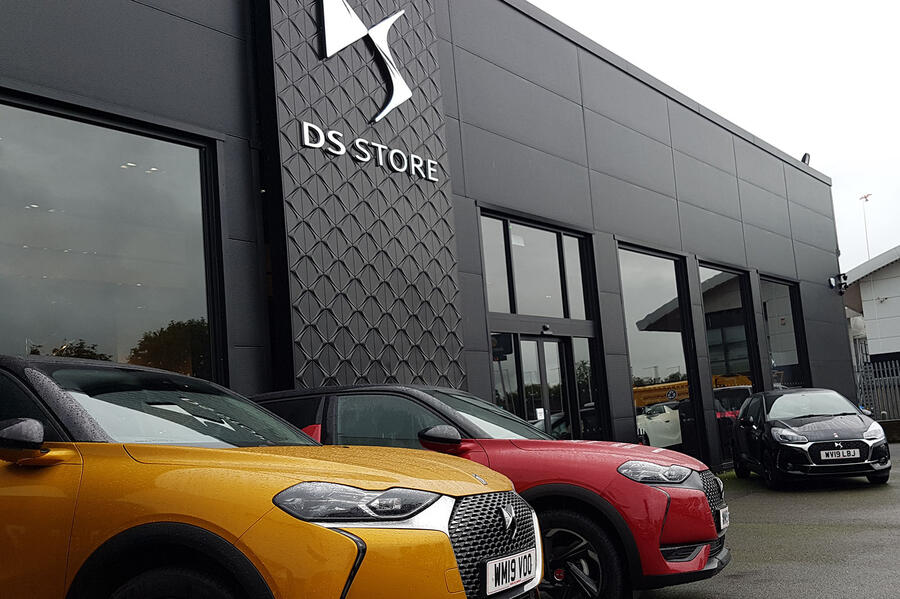 Efforts to boost the premium-ness include leather swatches hanging from the wall and surrounded by tools for upholstering, and there's a glass jewellery case full of expensive trinkets, watches and the like.
The service experience is less superficial: not only will a valet collect the car for servicing and deliver back clean as a whistle, but for a fee they'll also deliver the car on a branded track to wherever you need it. There's DS Club Privilege, too, an owners-only club that provides access to bespoke events across the UK, such as fashion shows, cookery classes and even truffle hunting, if that's your thing. Aspirational offers include discounts for posh hotels and private yacht charter companies.
If this all seems unnecessary to you, don't worry: this DS Store gets the basics right, too. Tim sat me down and gave me a full and frank explanation of everything they were going to do to my car: as well as a software update to make the service light less keen to glow, they'd check the calibration of the parking sensors, regas the air-con and update the sat-nav software. This was all free, of course, as was a comprehensive health check.
[ad_2]