[ad_1]

Back to the top
Life with a Citroen Berlingo: Month 2
Which car to take on a Scottish camping trip? No need to Mull it over – 11th September 2019
Essentials for a camping trip to the Inner Hebrides at the height of summer? At least two gallons of midge repellent, on top of the three tents and bags of outdoorsy gear needed to keep four adults protected from the elements.
Usually packing the car for a week-long road trip like this can be a bit of a nightmare, as your Tetris skills are put to the test. And even then, your passengers often have to share their leg room with carrier bags packed with vegan sausage rolls or flasks filled with kombucha tea – or at least they do on my trips.
The Berlingo posed no such problems, thanks to a huge rear tailgate and more handy compartments dotted around the cabin than we had camping kit to put in them. I'd thought the handy lower slot for the removable parcel shelf to sit would be perfect for avoiding items at the bottom of the boot being buried under a pile of Gore-Tex, but the shelf didn't enjoy the weight of our load – it's better served hiding whatever you have stashed underneath it than as an extra place to stuff things.
I've done plenty of long-haul trips like this in 'normal' cars. If you're sat in the back of one of those and taller than six foot, you'll know how incredibly uncomfortable it can be – your knees end up raised closer to your ears than your feet, so all your weight sits on your pelvis instead of being distributed to your thighs. While you can't adjust the Berlingo's rear bench for leg room, there's no real need to – there's ample space back there for three sets of adult-sized heads and legs, without any complaining after 500 miles from London to Scotland.
The only issue we encountered was shutting those rear doors once you're buckled up. While they're incredibly practical for loading, they are quite hefty, and rather stiff to close while sat inside. It can be a bit of a stretch for smaller arms to reach the handle, too.
The real hero was the Modutop optional overhead storage bin, which is perfect for storing the essentials within easy reach while freeing up space in the cabin. On our long run up north it meant not having to pull over to rescue lunch from the boot, saving precious time when we had a ferry to catch.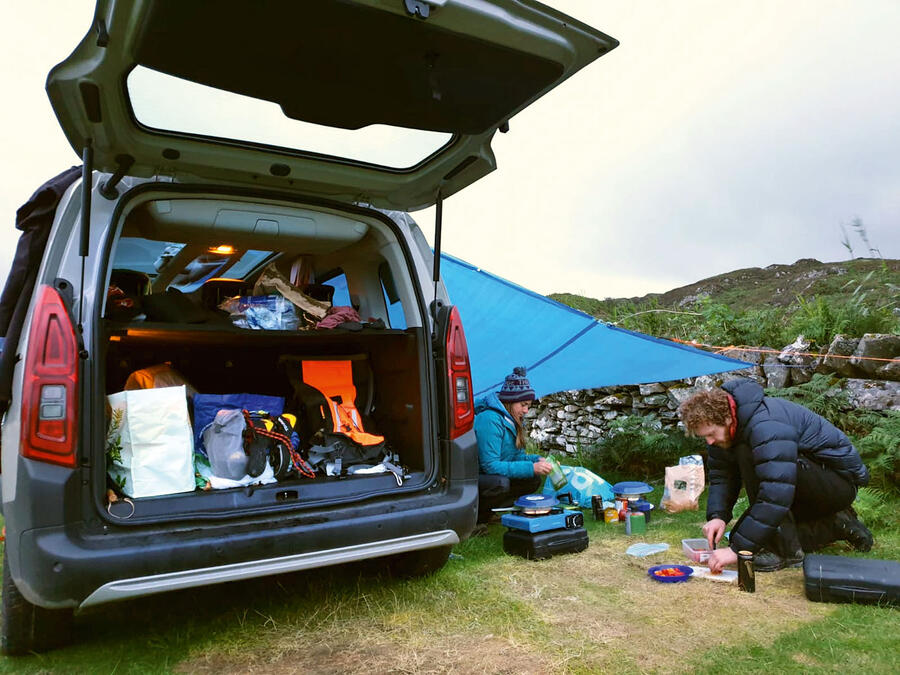 Once we'd made it off the mainland, Citroën's built-in navigation stopped getting around the Hebrides from becoming a chore. It lets you toggle certain points of interest – say camping grounds, tourist attractions, fuel stations and, usefully, ferry terminals. Being able to spot an opportunity to fill up wasn't to be sniffed at, either, given how few and far between petrol stations were.
[ad_2]