[ad_1]

Five years have passed since it first appeared and, in that time, cheaper rivals have come along. But BMW hasn't stood still. Today's i3 exists in pure-electric form only, improved with greater range and a sportier, more engaging i3s version. The arrival of a new 42kWh-capacity battery (120Ah) makes this the ideal time to revisit and see if it's still the best compact EV out there.
I was deemed its obvious custodian. My commute to and from Autocar's Twickenham office usually packs me onto six different trains like a sardine for up to two hours each way – a privilege for which I pay £10.50 per day. Travelling by car is slightly faster, even with traffic, but falls foul of the London congestion charge (£12 per day). Even before adding the cost of petrol or diesel, I'd be out of pocket, and the newly introduced Ultra Low Emission Zone ruled out running an old econobox on the cheap.
Over the next six months I plan to spend with BMW's electric hatchback, I stand to save £1240 on public transport, or as much as £3500 on fuel and toll charges. Sounds like a no-brainer, doesn't it? There is, of course, the small proviso that I live in a fourth-floor flat. I'm not planning to buy an extra-long extension cord so will be largely relying on public charging points.
The office has a 7.2kW charger, so I'll be fine during the week. For those longer journeys – and there will be many – I'll be completely reliant on destination charging, or the odd three-pin overnighter when visiting relatives out in the sticks.
BMW says the i3's new longer-range 42kWh battery is good for 177 miles under WLTP, but the next six months will likely prove as much a test of Britain's electric car infrastructure as of this quirky electric hatchback.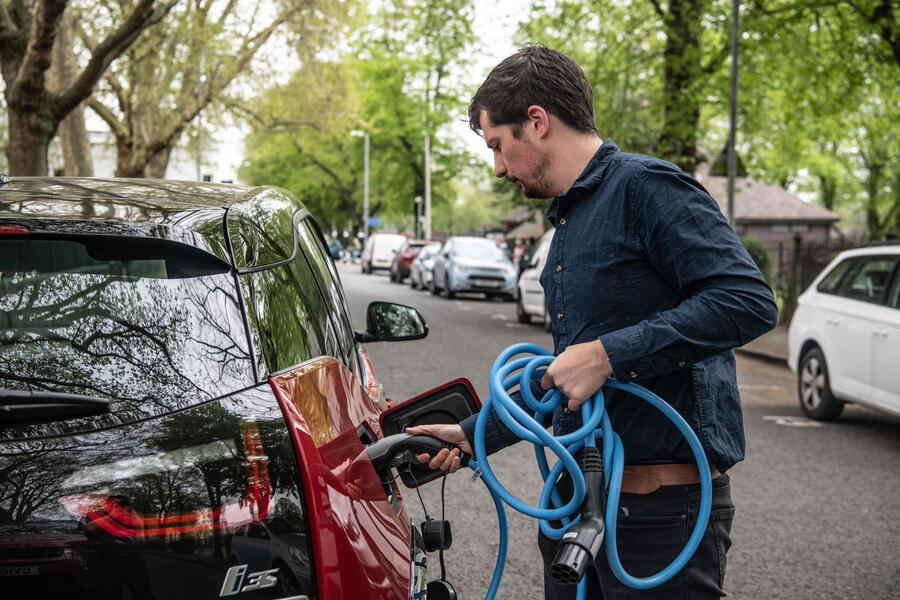 It will also be a test of my restraint, as the 181bhp and a 6.9sec 0-60mph sprint of our more potent i3s is rapid enough to bother some hot hatchbacks. I'm fully expecting the instant torque to be more tempting at the traffic lights, though, where only other EVs have a hope of keeping pace to 30mph.
Our car arrives in two-tone Melbourne Red and Frozen Grey metallic paint on 20in black alloy wheels and BMW's Suite 'interior world' – which means brown leather upholstery and dark oak wood trim to you and me. It's a combination I wasn't sure of at first, but it has quickly grown on me. The cabin feels more expansive than it really is thanks to the lack of transmission tunnel and minimal dashboard, and the darker materials don't make you feel at all confined.
It's a fully loaded example, with £6135 of options ticked, including the essential (£790 Driving Assistant Plus, £360 reversing camera), useful (£395 wireless smartphone charging, £330 keyless entry) and nice but frivolous (£125 blue seatbelts). The £235 Apple CarPlay preparation will largely go unused, as I have an Android phone. Unfortunately for me, BMW and Google don't yet see eye to eye, so it'll either be a dashboard mount or the built-in iDrive infotainment for navigation and media. Thankfully, there is an Android version of BMW Connected, the smartphone companion app that will grade my driving on a five-star scale, let me send navigation directions remotely and pre-heat the cabin for any cold morning commutes – at least those when I'm not desperately trying to conserve battery.
[ad_2]