[ad_1]

What's it like?
Aside from the bootlid badge and some redesigned tailpipes, there's not much to distinguish the M340i from a lesser Touring wearing M Sport trim. It'll take a keen eye to spot one on the road, unlike the more ostentatious competition from Audi and Mercedes.
It's a similar story inside, where it's as well-appointed and easy on the eye as any other 3 Series. The all-digital dashboard's angular layout might not be particularly straightforward, and there's still no Android Auto, but there's little doubt the BMW has the most sophisticated interior of any premium estate car around right now.
While navigating towns in its Comfort setting, the M340i gives few clues to its untapped power reserves, save for a somewhat brittle ride – though this is far from the ultra-stiff setups we've seen on some M Division cars recently. Adaptive damping helps combat uneven road surfaces, but not completely.
Handling isn't quite as precise as that of the 3 Series saloon, but you're still able to place the car with ease – although its overly plump steering wheel still isn't all that satisfying to feed through your hands.
It's only when you switch into Sport mode and the optional heads-up display throws up a shift indicator that the M340i gives any indication of its performance potential. The engine note then takes on a more enthusiastic tone that, while not as angry as a true M car, still comes alive as you explore the upper end of the rev range. 
Aim for 6800rpm with every pull of the paddle shifters and the car delivers an intoxicating level of acceleration, aided by its torque vectoring all-wheel drive system, which ensures the power is used effectively. It grips and goes, but equally doesn't require much encouragement to involve the rear end when in the sportier drive modes.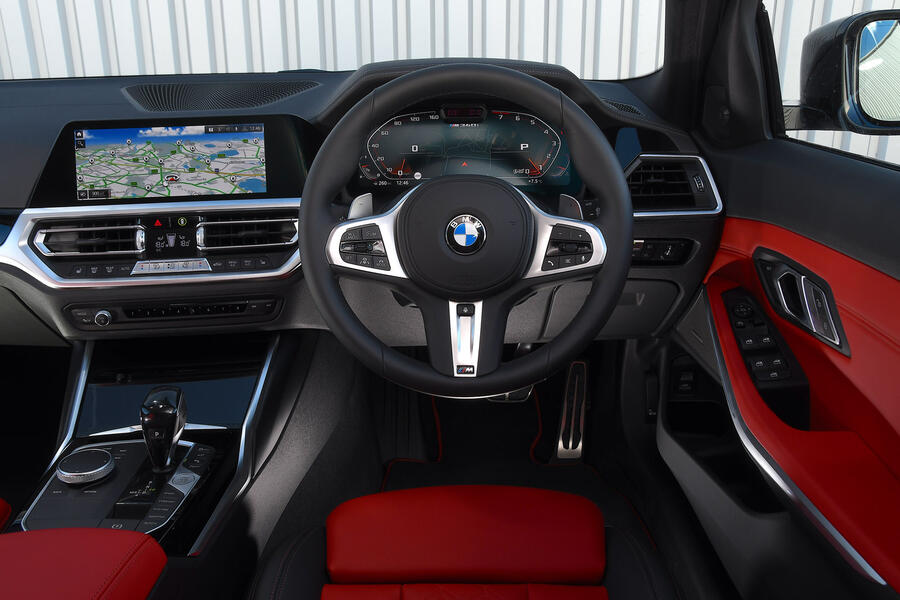 [ad_2]